2022 My Club Card Purchase (or Renewal)
00027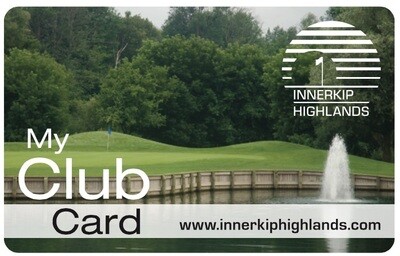 Golf @ Innerkip!
Innerkip Highlands 2022 My Club Card Program
My Club Card Benefits
Save 25% on Green Fee rates
Save 25% on Power Cart Rentals
Save 10% on Golf Merchandise*
Save 10% on Food & Beverage purchases (excluding alcohol)
Optional PrePaid account for contactless purchases at the club
*NEW for 2022* - Add a Golf Canada Membership to track your handicap along with other benefits - Learn About the benefits of a Golf Canada Membership here!
*Merchandise discounts do not apply to sale prices
Additional Benefits of the Club Card Program
Access to the Innerkip Tee Sheet up to 14 days in advance
Participate in Innerkip League activity
Access to Club Hosted events such as the Annual Club Championship
Visit our Club Card Program page for more FAQs and information
If you're buying a Club Card for someone else, be sure to enter their information in the text fields.
We will be providing physical cards on request and will require an updated photo to be placed on your file upon your first visit to the club for golf in 2022. Your account will be updated once your online purchase is completed and your discount will be associated with your account.
Please allow up to 2 business days for your account to update.

Add your Golf Canada Membership - $60 value (50)