2021 Club Championship Registration
00026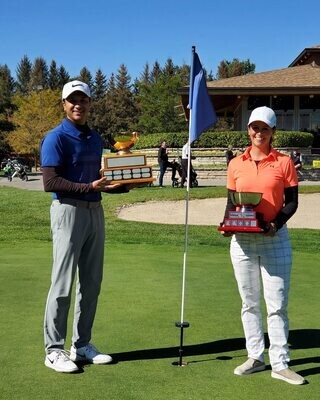 Golf @ Innerkip!
2021 Innerkip Club Championships - Aug. 28th & 29th
The competition for the Club Championships at Innerkip Highlands Golf Club is a two-day, 36-hole, flighted, stroke play event. The Club Championship registration entitles you to participate in the event and includes a participant package (exclusive Club "C" items), two drink tickets (alcoholic or non-alcoholic), complimentary Baden Coffee during both rounds and a participant gift. Green fees will be paid on each day of the event based on your loyalty program pricing. You must be an Innerkip Highlands Member or My Club Card holder to participate in the Club Championships.
Power Carts are available for participants should you choose to ride at an additional cost.
We anticipate being able to host an in-person awards ceremony with trophy presentations if COVID protocols are not re-implemented by the local public health unit. Patio dining will be available and encourage for participants to enjoy as they watch the groups play in on Saturday and Sunday.
Please arrive approximately 20 minutes before your scheduled tee time. Starting times for Saturday's rounds are between 7:30 am and 9:00 am. Starting times for Sunday's rounds are between 7:30 am and 9:00 am. Your specific tee time for Saturday will be emailed to you prior to the event and your Sunday tee time will be emailed following the completion of play on Saturday.
We will be using a split tee start to help bring the competitors closer together at the end of their rounds. On Saturday the A, B and Women's flights will tee off on #10. The C and D flights will tee off on #1. On Sunday the A, B and Women's flights will tee off on #1 and the C and D flights will tee off on #10.
Tournament Registration will close at the end of business on August 23, 2021.
All competitors are required to play in the flight indicated by an accepted handicap rating (Innerkip League, USGA or GAO). Flight cut-offs will be based on the number of players signed up in order to create suitable fields in each flight. All competitors will keep score for another competitor in their group before starting and attest their opponent's score at the end of the round. All competitors must hole out on every hole. Each competitor will be responsible for keeping track of their own score for verification.
Stroke Play
Players count each stroke taken and any penalty strokes assessed on each hole to accumulate a total score against par for their round. The player with the lowest cumulative score following 36 holes of play will be deemed the winner for each flight.
This event is proudly sponsored by the Baden Coffee Company - Small Batch Roasted in Small Town Ontario